Film Screening: Jeronimo
Date:
Thursday, February 6, 2020,
7:00pm
to
9:00pm
Location:
Belfer Case Study Room (S020), CGIS South Building, 1730 Cambridge Street, MA 02138?

Film Screening & Discussion with the Director; organized by the Harvard Korean Association and co-sponsored by the David Rockefeller Center for Latin American Studies and the Korea Institute at Harvard University
?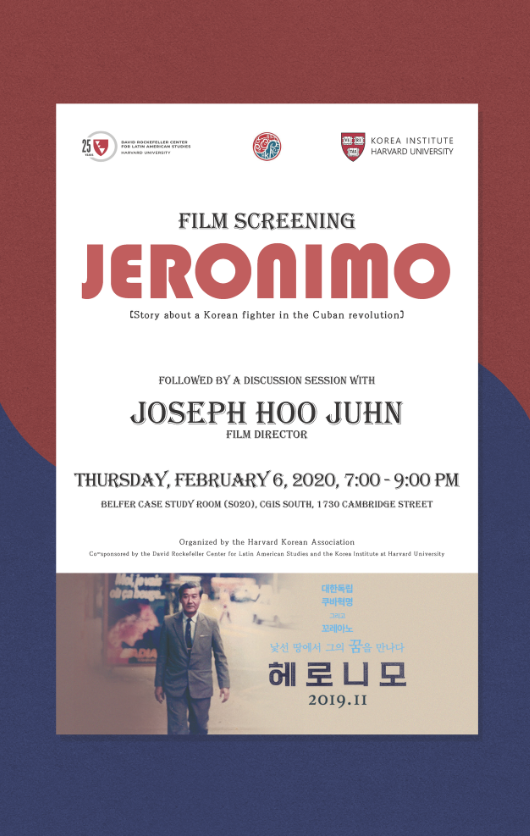 Joseph Hoo Juhn
Film Director
About the Documentary
Born in 1926 to Korean indentured servant parents in Cuba, Jeronimo joins the Cuban revolution and crosses paths with Fidel Castro and Che Guevara, before turning to his Korean roots and identity.
On December 28, 2015, I went to Cuba for one week of backpacking. To my surprise, the first Cuban I met was a middle-aged Asian lady, who was waiting for me at the airport to transport me to a hostel I booked only several days before. As we hit the road, I got curious and asked about her ethnic background. She told me that she was a fourth generation Korean Cuban. Right then and there I knew that this trip was meant for something much larger than cigar-smoking and mojito-drinking.
Having always been interested in the notion of Korean Diaspora ? Koreans outside of Korea forming their own communities while retaining their identity ? I was intrigued and excitedly asked many questions. Welcoming such curiosity, the lady, Patricia Lim, invited me to her family''s place for the next day, to meet with her mother, son, brother and other extended family members. Needless to say, this visit was the beginning of a life-changing experience.
Patricia''s mother, Cristina, then 87, sat me down and brought out dozens of photo albums, sharing with me an epic tale of the family's history. Cristina''s husband, Jeronimo Lim, who had passed away 10 years earlier, was a revolutionary fighter in the Cuban revolution. He went to law school with Fidel Castro and later worked with Che Guevara in the new Cuban government. Yes, ''unbelievable'' is the right word.
As I was listening to these adventures, I became overwhelmed with such a sense of conviction that this story had to be shared with the world ? particularly those in Korea and Korean communities around the world.
So, I decided to make a feature-length documentary about the Lim family and Koreans in Cuba at large. In August 2016, returned to Cuba for two weeks with a wonderful film crew of five. We met with over one-hundred Korean Cubans and interviewed over thirty of them to hear their accounts of history. It was a trip that changed my life for certain and I can''t wait to share the untold stories of Koreans in Cuba with the public.
I believe that this film is of historic importance. I am doing this without any outside help so any help you could provide, I am much grateful for. I ask you to join me on this journey to discover one of the most magical, dramatic and painful ? yet beautiful ? chapters of modern Korean history. Indeed, a story as powerful as this one is needed in a time like this.