Date:
Thursday, May 6, 2021,

8:00pm

to

9:00pm
Location:
Online Event (Zoom)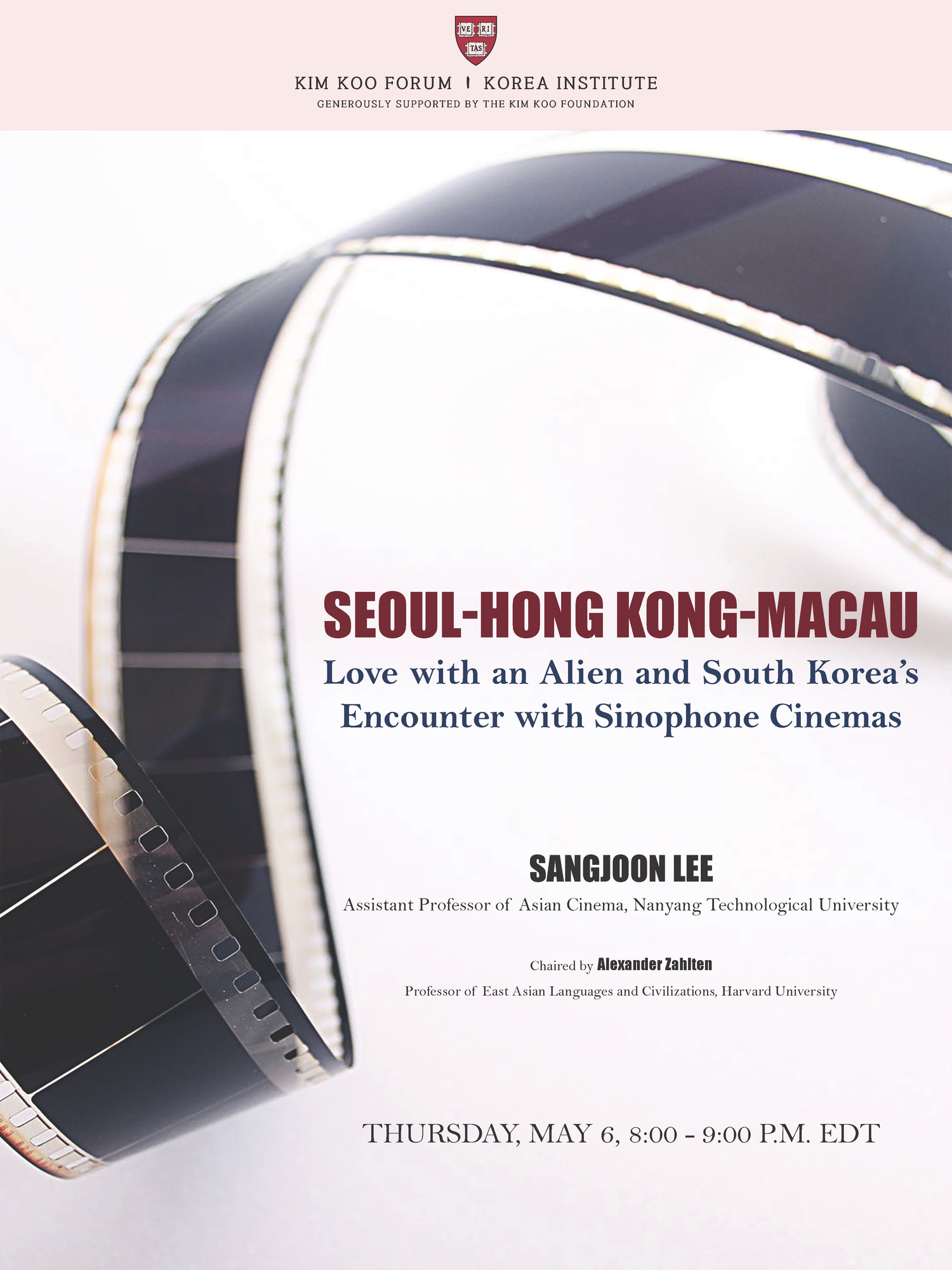 Sangjoon Lee

Assistant Professor of Asian Cinema, Wee Kim Wee School of Communication and Information, Nanyang Technological University
Sangjoon Lee is a
historian of Asian cinema whose interests span the cultural Cold War and Asian cinema, South Korean cinema and popular culture, international film festivals, and the film industries in contemporary Asia. He is Assistant Professor in the Wee Kim Wee School of Communication and Information at Nanyang Technological University. Lee is the author of Cinema and the Cultural Cold War: US Diplomacy and the Origins of the Asian Cinema Network (Cornell University Press, 2020), the editor of Hallyu 2.0: The Korean Wave in the Age of Social Media (University of Michigan Press, 2015) and Rediscovering Korean Cinema (University of Michigan Press, 2019), and the guest editor of "Reorienting Asian Cinema in the Age of the Chinese Film Market (Screen, 2019), "The Chinese Film Industry: Emerging Debates" (Journal of Chinese Cinemas, 2019), and "Transmedia and Asian Cinema" (Asian Cinema, 2020). Lee is currently writing a new monograph Border Crossings in Celluloid Asia: South Korea's Encounter with Sinophone Cinemas and editing two books - Asian Cinema and the Cultural Cold War and The South Korean Film Industry.
Chaired by
Alexander Zahlten
, Professor of East Asian Languages and Civilizations, Harvard University
Abstract:
This talk traces a history of the 1950s cinematic coproduction in Asia by exploring the historical, social, cultural, and intellectual constitution of the first South Korea and Hong Kong network after the Korean War armistice. Love with an Alien
(
Igukch?ngw?n
, 1958), the first South Korea-Hong Kong coproduction film, was a regional collaboration par excellence. Three veteran directors from three countries?Ch?n Ch''ang-k?n from South Korea, Tu Guangqi from Hong Kong, and Wagasaki Mitsuyo from Japan?were involved in this transnational melodrama set in Seoul, Hong Kong, and Macau. This important postwar classic, however, had long been lost and forgotten in the chronicles of Asian cinema. It was in May 2012, 54 years after the film's initial release, when the Korean Film Archive found a badly damaged negative print at a Shaw Brothers' storage facility in Hong Kong. The restored film, done by Japan's IMAGICA Lab, had its premiere at the Korean Film Archive on April 2, 2013. This talk first provides an overview of the emergence of motion picture studios in Asia during the 1950s. Then, it discusses Love with an Alien and locates the text in the complex web of a regional cinema network. I will examine the network of motion picture executives, creative personnel, policymakers, and intellectuals in South Korea and Hong Kong at the height of the Cold War. Due to a significant gap in the scholarship about the richness and complexity of the subject, I relied on the trade journals, newspapers, and popular magazines published in South Korea and Hong Kong.