Thomas Chan-Soo Kang Room (S050), CGIS South Building, 1730 Cambridge Street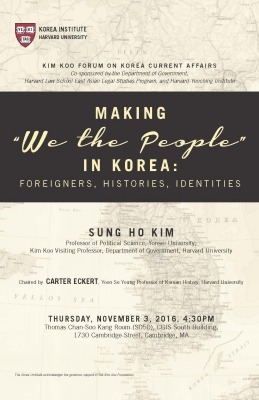 Sung Ho Kim,
Professor of Political Science, Yonsei University; Kim Koo Visiting Professor,
Department of Government, Harvard University
Sung Ho Kim is Kim Koo Visiting Professor at the Department of Government at Harvard University and
Professor of Political Science at Yonsei University. Previously, he taught at Williams College and
University of California. His primary field of research/teaching is political and constitutional theories;
he is also interested in Korea, Japan, and East Asian politics, law, and history in general.
He is the author of Max Weber''''s Politics of Civil Society (2004/2007) and Making We the People (2015),
both published by Cambridge University Press.
He is recipient of the Leo Strauss Award of the American Political Science Association.
He holds postgraduate degrees from the University of Chicago.

Chaired by Carter J. Eckert, Yoon Se Young Professor of Korean History, Harvard University